Thursday, January 6, 2005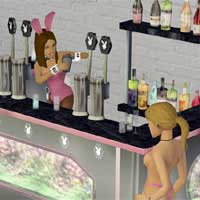 - or, The Sims, on Viagra?
I can't say from the previews if this game is going to be any good or not. I know for SURE that there will be some real discussion around Playboy, The Mansion when it is released (January 15th, I think). Just have a look at this. Ironlore, the developers, are putting real people into the game:
Have you ever dreamt of living at the Playboy Mansion, roaming freely in the world's most stylish pad, meeting with celebrities and enjoying the Playboy lifestyle in the place where it all started?
This could be you. If you're willing to look sexy on the web, enter a contest, and you could be the one they'll invite into the game. Their website is full of hopeful, sexy young people. Are they competing with porn sites? You've got to wonder when you come across pictures like this one:
The rules: You've got to be 18. Could they perhaps add another, small rule? Like... keep your panties on, at least?
Are you feeling turned off, or is this just me...